Posted By Barry G
Well I finally got around to installing a capacitance type fuel sender to replace the stock unit. I have replaced it twice already and was unwilling to spend the money on it again.
What you need is a sender. I got mine from Centroid
http://www.centroidproducts.com/
. You need a 220/20 ohm unit, which is not listed but they will do it no charge. They have different mounting styles. I used the standard 5 hole SAE mount (no charge) but they have other options. You also need to know how long it needs to be and they will cut it and calibrate it for you. However you can cut it yourself if need be. I ordered mine 14.5 inches long. They say it needs to be 1/2 inch off the bottom mine ended up being about an 1 inch off the bottom. Had I been able to measure it accurately I would have gotten it 15 inches long. It will depend on where you place it as to the length you will need
You will also need a drill, 1 inch spade type bit or hole saw, 3 butt splice connectors 16-18g size, 3 ring connectors/ends. I also used a 3 wire GM Weather Pak Connector 1 ea male and female. Also need some type of gasket sealant good for diesel fuel. I used Permatex Form a Gasket #2, so far it is working fine. You will also need 5 bolts and nuts. I used 10/24 1.5 inches long with a washer on top, washer underneath with a lock washer and the nut. (1/4 inch will not fit nor will 6 mm)
Remove the tank from the truck. You might be able to do this by removing the bed but you may find your wires might be a bit short to work with.
Drain remaining fuel if not already empty.
Clean top of the tank to help keep any crud from getting into the tank once opened up.
Remove cannister lock ring. A few soft hits with a hammer and chisel got mine right off.
Remove the module. I checked mine and was suprised it was very clean very little stuff inside the screen was free of dirt as well. In fact the entire tank had little crud if any in it.
Remove float assembly from module (you could leave it in but why take the chance of the float disintegrating over time like has been mentioned on this forum many times in the past).
Set cannister aside in a safe clean place for now.
Drill your 1 inch hole in your fuel tank (it drills easily). I placed a couple shop rags inside the tank underneath the area I was going to drill to catch the drill shavings. My hole was placed on the step up about 12-14 inches forward of the module. From the manual this appears to be a spot for a rollover valve on the gas vehicles. There was a nice flat recessed area even had a centerline cross on it. The circular area was the exact same size as the sae mount for the new sender. (by the way my tank is from a 4x4 long bed qc truck either 35 or 36 gallons in size). It appears that not all trucks have the same type of tank so be aware of that.
Place new sender in your new hole and drill the 5 holes for the mounting bolts.
The sender came with a gasket and I used it but I also used some gasket sealant so if using it now is the time to apply it.
Put it all together and tighten down the bolts firm but not too much. You dont want to mess up the gasket or crack the sender head.
I reinstalled the module at this time but you could do it later especially if you are combining this with a draw straw install.
From the electrical plug that plugs into the module snip of the end connector (you might want to leave enough wire so that if you wanted to put it back you could).
From one side of your 3 wire GM weather pak connector (mine came with pigtails on them) attach 3 ring connectors/ends.
From the remaining side of the GM weatherpak connector attach two wires from the bundle you previously clipped. On my truck (2001) the two wires you need are black/light blue is sensor ground and dark blue/white is fuel level sensor signal. The remaining two wires(green & black) in that harness are unused by the vehicle they are for a gas truck. Use the butt splices(I also used shrink tubing) to connect the harness to the gm connector wires. The gm connector is labeled A,B,C (on each side) take note of which wire goes to which letter as you will need to know that later.
Now you need to run a 12v ign switched power wire to the remaining wire of the GM connector. Again take note of which one a,b or c it is.
Take the gm connector side with the ring terminals and attach it to the new sender per the directions. This is where knowing the a,b,c comes in handy.
Now put the tank back in place. Once in place just push the GM connector together.
Turn on the key in your truck and check your fuel level. Well at least after you put some fuel back in it. Mine read as follows being approx 1 inch off the bottom of the tank. 9 gals 5/16 of tank, 14 gals 7/16, 19 gals 9/16, 24 gals 11/16, 29 gals 13/16, 34 gals 16/16(full), 36 gals 17/16 (just over full). I only waited a bit after each 5 gals I pumped in then checked the level except for the inital 9 gals poured that all in at home.
Not sure if the low fuel light will work or not. Have no reason to think it wont but it was not on after I poured in the 9 gallons of fuel initially.
Anyway I hope this helps someone I wanted to do a cap type sender but was afraid of the wiring and as it turns out it is nothing at all. 3 wires two of which are already there and a simple 12 v feed. No problem what so ever.
I have some pictures but darned if I can figure out how to post them. If anybody can help let me know or I can email them to you.
Well Ill be darned photobucket works.
First one shows tank, module opening and the recessed area in relation to the module. The recessed area is flat even though it does not look like it in the picture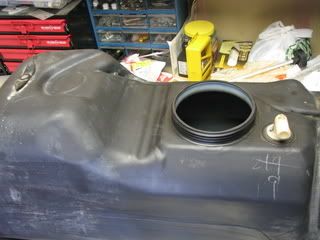 Shows the recessed area in detail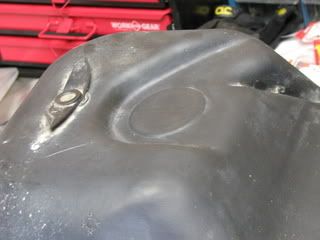 shows the sensor head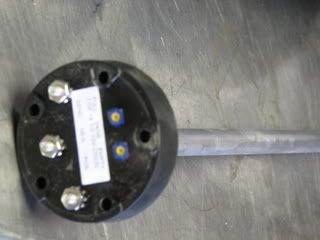 shows the complete sensor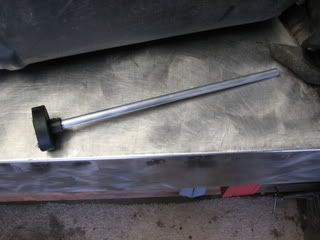 Shows 1 inch hole drilled for sensor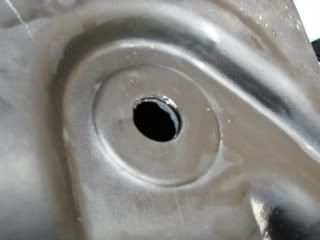 shows sensor mounted in tank
shows gm weatherpak connectors
shows sensor install with wires and connector